This past week showed a bit of change in weight loss. We had avoided weighing in for a few weeks to see if there had been any progress.   Not big milestones but my husband lost 6 pounds and I lost 4.   My goal is to lose 12 pounds and he is aiming for another 6. We'll evaluate further when that happens!
We have started walking regularly in the mornings, covering about 3 miles plus another mile and half (ballpark) with the dog.
If we're lucky Aja will walk first so we can warm up. Anyone with a dog knows it's not a fast paced exercise and that's fine. We walk her over a mile, she does her business and then we pop her back in the house and proceed to cover the same territory, only at a faster pace.
We have also been eating better, cutting back on fattier foods and all but eliminated desserts.  Seriously, I am a sucker for a sour cream doughnut and I have had one in the last month so….not too bad.
We are eating less meat and more beans, grains and veggies.  Some of the delicious vegetarian meals we've had include:
Baked Ratatouille, Hearty Rice Skillet with Veggies and Vegetarian Cassoulet
I am also a sucker for a red blend – Dreaming Tree Red Crush is the top of my list and yeah, I know I could lose quicker if I didn't have wine.  But I love it.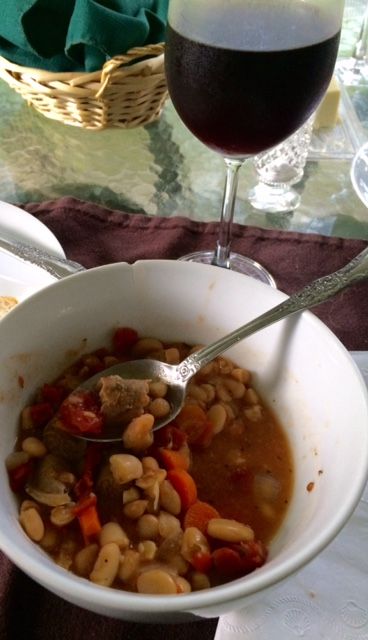 That is all I have to share right now.  Still walking and eating better so, it's a good start.  How is your week going regarding exercise?
Check out Readers' Workout at Joy's Book Blog and join in!